Assorts' ball turning attachment for lathe II bearing base II Smooth rotation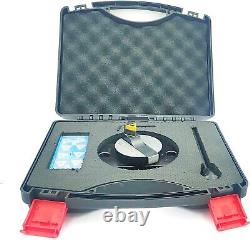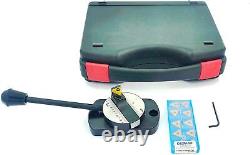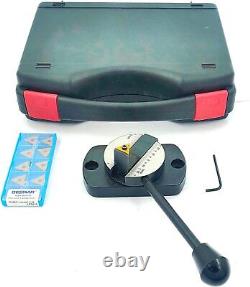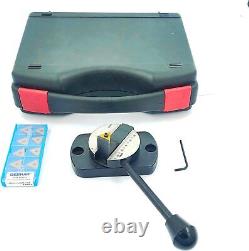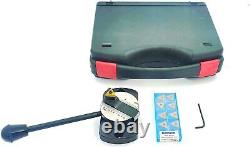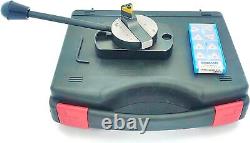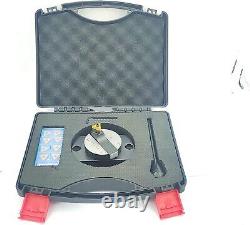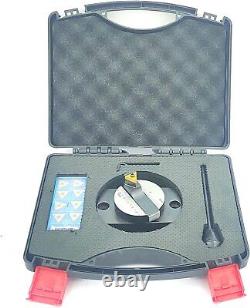 This fits straight onto the cross slide of your myford and similar lathe machine for quick turning of the convex metal, plastic or wood balls (In case of single bit) and Concave Curvature, not really ball (refer to the image provided). The Head can be adjusted for different Ball Sizes. Maximum Convex ball diameter possible is 42 mm (Does not apply to Mini lathe's Ball turning attachment).
The much demanded graduations in imperial and metric measurements are now being provided as a reference scale for turning a approx ball diameter calculations. Its is important to note that the scale provided is for a close idea of the diameter of the desired ball size. It should not be referred for an exact measurement by the users. The insert tip should be adjusted gradually to the given reading for achieving the desired size of the ball.
Pls note the scale is a radius reading, which means that for any set parameter on this scale, you will get double of it as the ball diameter. Example- If you set the scale at a measurement of 15 mm, you will get a ball size of diameter 30 mm.
Provided with a bearing base for easy free rotation on the attachment's head in order to have a smooth ball finish. However a fine emery paper is recommended to better the finish after turning at a slow rpm of the rotating work piece. Supplied in a plastic suitcase bag.
NOTE: Double Bit 7 x 14 is for Mini Lathe 7 x 14 Size. Rest 2 designs are for Myford and other similar machine. However customer may still make jigs fixtures and packing to make them accustomed to other sizes of the lathes as well. Store That Offers More Than 500+ Engineering Machine Tools & Accessories for your Lathe, Mills & Tool Room Needs.
HSS Cutting & Finishing Tools. Assorts' ball turning attachment for lathe II bearing base II Smooth rotation. You will be glad to know that our tools are being manufactured in our own production facility in New Delhi (India) and are being inspected to ensure that they meet the required International quality benchmark as well as the expectations of our customers. We hold the Inventory of our good sellers in the USA & UK to offer the quickest possible deliveries to our customers. We do fulfill many of our stores from our US local warehouse. In such instances, please do check the item location for your easy reference. For the Items being fulfilled from the US warehouse, it may take upto 48-72 hours to advise the tracking details due to the time zone difference between India & our US counterparts. However, we take complete onus and responsibility of supplying you with a completely brand-new product without any manufacturing or transit damage.
Though we packed our goods with utmost care and strong packaging material, since our products are heavy, there could be transit damage in a few cases. However, it has been seen that such issues are not always a problem and our customers could still use them. In the majority of the cases, we have experienced that we manage to resolve the issue amicably without any trouble. So a discussion is the best way of a desired resolution. SEE OUR OTHER ITEMS FOR SALE.
Steel Machinist Try Square DIY General-(set of 3 sizes)-USA FULFILLED. Set of 5 Pcs Long & 8 Pcs Short Drive Bolt Catch Roll Pin Punch Set-Hard.
Tailstock Die Holder for threading on Lathe (MorseTaper 3MT) -USA FULFILLED. Hardened pin Universal Transfer Punch Center Aligner punch Machine Tools small. RE-MACHINABLE SOFT STUB BLANK ARBOR-LATHE, DRILL, (R8 SHANK-7/16UNF DRAWBAR)-USA. STEEL LATHE ALIGNMENT TEST BAR MANDREL. 6 Wheel Knurling Tool Multi Texture For Lathe Machine.
Boring Head 2 for Milling R8 Shank (7/16 UNF Drawbar)- USA FULFILELD. Horizontal Vertical HV6 Rotary Table 150 mm -6 Inches (3 SLOTS) - USA FULFILL. Jaw Width 2'' Inches 50 mm Modular Milling Vice Machine Vise & Boring Table-USA. Automatic Center Punch with Replaceable Hardened Steel Tip. HV 4-110 mm horizontal vertical rotary table for milling machine. Listing and template services provided by inkFrog.