Cocobolo Bowl/Platter Turning Square Carving Wood Block Lathe 10x10x2 (1 Pc)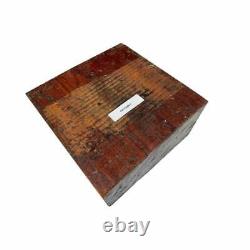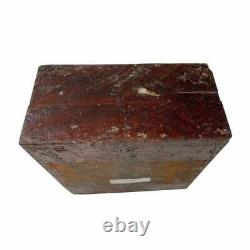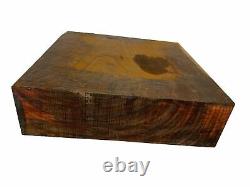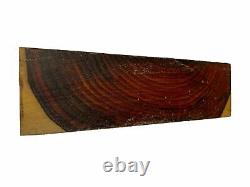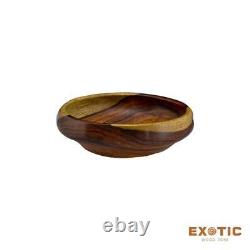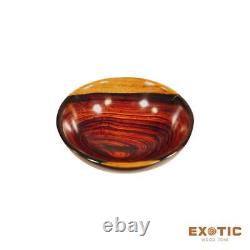 Our Premium Cocobolo Bowl Platter Turning Blank - Elevate Your Woodworking with Stunning Cocobolo. Embrace the artistry of woodworking using our carefully designed 1-piece kiln-dried Cocobolo Bowl Blank, precisely measuring 2" in thickness, 10" in width, and 10 in length-an ideal chance for DIY aficionados to fashion wood into captivating vessels; grasp this occasion to nurture your imaginative spirit, refine your skills, and embark on a woodworking journey filled with boundless ingenuity!
10" x 10" x 2 (inches). 2,960 lbf (14,140 N). Carving, bowl making, wood working, wood turning projects, wooden bowl making, lathe wood turning blanks. Cocobolo, scientifically known as Dalbergia retusa, is a tropical hardwood species native to Central America. Color: Cocobolo is renowned for its distinctive and vibrant colors.
It can exhibit a range of hues, including reddish-brown, orange, purple, black, and sometimes yellow. Grain: Cocobolo typically has a straight to interlocked grain, but it can also display wavy or irregular patterns. Texture: Cocobolo has a fine to medium texture and a natural luster. The wood has a smooth and polished feel, adding to its luxurious appeal. Durability: Cocobolo is highly durable and resistant to rot, decay, and insect attacks.
Common Uses: Cocobolo is commonly used in various woodworking applications, including wooden bowls, pens, decorative wooden items, such as vases, candle holders, and platters, showcasing, small trays and boxes, knife handles, veneer, inlays, home decor. We do accept reasonable offers from buyers.
You will get the item with the same measurement as. Our products are defect-free and we guarantee 100% product satisfaction.
We are happy to answer your queries to serve you better. NB: This Picture Is Only A Sample Piece. You Will Get Almost Similar Piece. For Rates please message us. Wood blocks, turning wood blanks, turning blanks, turning lumber, turning stock, wooden square blocks, exotic wood turning blanks, hardwood blocks, wood turning blanks for sale, lathe blanks, kiln dried wood turning blanks, turning blocks, tonewood, bowl blanks, bowl wood blanks, bowl turning blanks, wood bowl blanks, woodturning bowl blanks, wood turning bowl blanks, bowl blanks for sale, wood bowl blanks for sale, kiln dried bowl blanks, Square Wood Blanks, bowl turning blanks near me, exotic bowl blanks, exotic wood bowl blanks, wood bowl blanks for woodturning, hardwood bowl blanks, cheap bowl blanks, bowl blanks near me, large bowl blanks for woodturning, large bowl blanks, wood lathe turning bowl blanks, wood turning blocks, wood turning bowl blanks lot, woodturning platter blanks, platter blank, wood platter blanks, blank platter, carving block, cocobolo bowl blank, cocobolo bowl turning blanks, cocobolo bowl block, cocobolo wood, cocobolo wood blank, cocobolo lumbers, cocobolo platter blank, cocobolo bowl blanks, lathe, cocobola turning blank, cocobola Bowl Blank, cocobola turning wood.