Design Patent Precision Taper Turning Attachment For Lathe Tailstock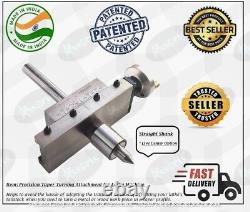 Assorts' Design Patent Taper Turning Attachment with Live Revolving Center For Turning Tapers on Lathe Machine II Check Working Video. Made out of casting and tool steel, much improved and precise quality of taper turning attachment than our previous model, is available in Morse taper MT 1, 2,3 & 4 shanks. This new design gives you the freedom from old traditional method of off-setting the tailstock of your lathe, when you wanted to do the metal /wood turning in a taper profile. This comes with 2 different options to chose between a dead and a double bearing live revolving center on the front to hold the work-piece from center. The center point is hardened & precisely ground.
The attachment's slides movement is control through a fine metric thread screw, and can be shifted 25 mm left & right using the handle rotation. Pls note that the 1 handle rotation will off set the attachment by 1 mm.
The attachment's slide is provided with a brass gib for fine movement and adjustment & locking through the slide's screws & bolts. Note: Pls chose the shanks as per your machine size & between option of DEAD & LIVE centers, very carefully while ordering from the drop down to avoid any mistake. Design Patent Precision Taper Turning Attachment For Lathe Tailstock. You will be glad to know that our tools are being manufactured in our own production facility in New Delhi (India) and are being inspected to ensure that they meet the required International quality benchmark as well as the expectations of our customers. We hold the Inventory of our good sellers in the USA & UK to offer the quickest possible deliveries to our customers. It is important to note that after the pandemic, although the logistic services have been improved a lot. However, they are still to reach their original positions. We expect our customers to understand and support us in such issues which are unforeseen and not in our control. However, we take complete onus and responsibility of supplying you a completely brand new product without any manufacturing or transit damage. Though we packed our goods with utmost care and strong packaging material, since our products are heavy in weight, there could be transit damage in a few cases. However it has been seen that such issues are not always a problem and our customers could still use them. In majority of the cases, we have experienced that we manage to resolve the issue amicably without any trouble. So a discussion is the best way of a desired resolution.
SEE OUR OTHER ITEMS FOR SALE. Ball Turning Attachment with Spare Carbide Insert For 7 x 14 / 7x16 Mini Lathes. 4 Inch/ 100 mm diameter Fly cutter with Carbide Indexable tip facing tool. Speed Guide Circle Cutter with HSS Tool Bit for Milling Machine. HSS Woodruff Keys T Slot Cutter Tool 1/2 Inch Straight Shank.
CNC Long Spindle Live Revolving Center Morse Taper MT4 with Interchangeable Tips. HV6 Rotary Table (150 mm -6 Inches) 3 SLOT Milling Machine-USA. HV6 /150 mm /6 Inches Rotary Table & Steel Dividing Plates Set- USA FULFILLED.
Small Tailstock for 3'' (80 mm) & 4'' (100 mm) Regular Rotary Table- USA FULFILL. Listing and template services provided by inkFrog.