New Taper Turning Attachment with Live Revolving Center Morse Taper Lathe Tools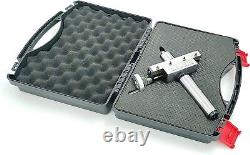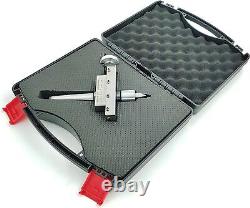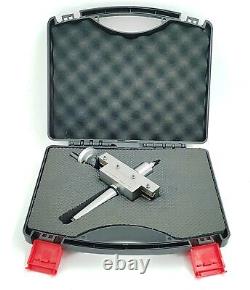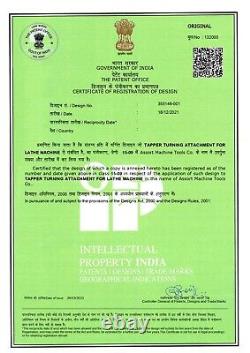 Made out of casting and tool steel, Much improved and precise quality of taper turning attachment than our previous model, is available in MT1, 2 & 3 Morse Tapers. Gives you the freedom from old traditional method of off-setting the tailstock of your lathe, when you wanted to do the metal /wood turning in a taper profile.
It has a double bearing live revolving center on the front to hold the workpiece from center. The revolving center point is hardened & precisely ground. The attachment's slides movement is control through a fine metric thread screw, and can be shifted 25 mm left & right using the handle rotation. Pls note that the 1 handle rotation will off set the attachment by 1 mm. The attachment's slide is provided with a brass gib for fine movement and adjustment & locking through the slide's screws & bolts.
Do It Yourself (DIY Tools)#######x9. HSS Cutting & Finishing Tools.
New Taper Turning Attachment with Live Revolving Center Morse Taper Lathe Tools. SEE OUR OTHER ITEMS FOR SALE. 50 mm/ 2 Inches Quick Release Steel Vise for Micro Milling Drill USA FULFILLED. Mini Vertical Slide (90 x 50 mm) for instant Milling Lathe Tool- (USA FULFILLED). Rigit Tailstock Die Holder for threading on Lathe Machine Tool (USA FULFILLED).
ER-20 Collet Adapter for Instant Milling-Fits to 3"75 mm/ 4" 100MM-USA FULFILLED. MT4 Triple Bearing Lathe Revolving Center For Metalworking-Under 5 Micron USA. 70 mm 4 Jaws Independent Chuck with Back Plate Milling Lathe Tool USA FULFILLED. Caste Iron 100 mm/ 4 Stepped Angle Plate Milling Machine Lathe USA FULFILLED.
New Tool Post Mini Vertical Slide with 2 50 mm Steel Vice Milling USA FULFILLED. V Block Jig Fixture for Center Drilling on a Round Work-piece 2 (USA FULFILLED). 35mm Engineer Easy Bell Punch Hand DIY Tool Find Center Round Bar-USA FULFILLED. Caste Iron Small 1.5 Inches (38 mm) Jaw width Drill Press Vice Vise Machine.
Caste Iron 100mm Round Vice for 4 (100mm) Rotary Table+M6 T-nut (USA FULFILLED). You will be glad to know that our tools are being manufactured in our own production facility in New Delhi (India) and are being inspected to ensure that they meet the required International quality benchmark as well as the expectations of our customers. We hold the Inventory of our good sellers in the USA & UK to offer the quickest possible deliveries to our customers. It is important to note that after the pandemic, although the logistic services have been improved a lot. However, they are still to reach their original positions.
We expect our customers to understand and support us in such issues which are unforeseen and not in our control. However, we take complete onus and responsibility of supplying you with a completely brand-new product without any manufacturing or transit damage. Though we packed our goods with utmost care and strong packaging material, since our products are heavy, there could be transit damage in a few cases.
However, it has been seen that such issues are not always a problem and our customers could still use them. In the majority of the cases, we have experienced that we manage to resolve the issue amicably without any trouble. So a discussion is the best way of a desired resolution. Listing and template services provided by inkFrog.