Package of 6 Carbide Simple Woodturning Tools & Handle for Wood Turning Lathe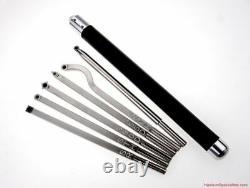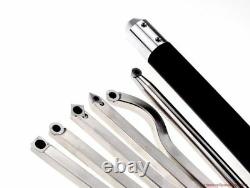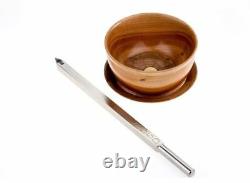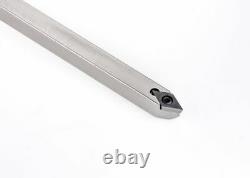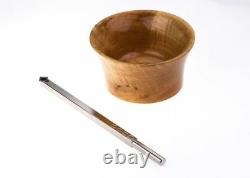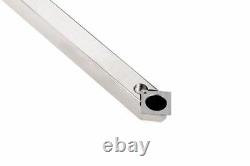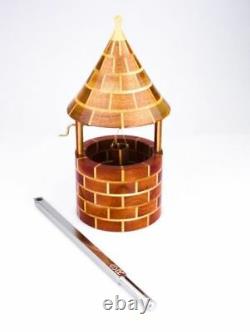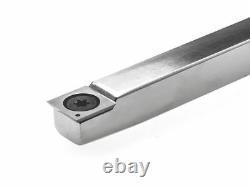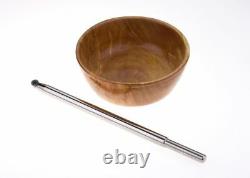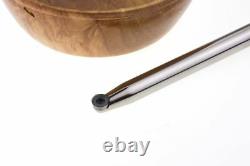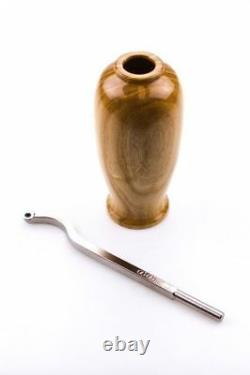 Package of 6 Carbide Simple Woodturning Tools & Handle for Wood Turning Lathe. 6 Tool Set of Carbide Wood Lathe Tools Plus Interchangeable Foam Grip Handle. 6 Tool Set of Carbide Tools with 17 Interchangeable Handle. The most beautiful lathe tool handle on the market, 100% USA made by American craftsman. CNC machined from solid aircraft aluminum for balance, durability, and to last for years.
Covered with a soft, comfortable foam rubber grip to reduce hand cramping during long turning sessions and for great tool control. Overall length is 17"; outside diameter is 1 3/8"; tool opening is ½ diameter.
Tools can be easily changed by loosening the two stainless steel set screws. Benefits of Carbide Lathe Tools. Simple to use for all skill levels making woodturning fast and more enjoyable. You can focus on your project and not on techniques or sharpening. No long learning curve or expensive sharpening equipment. You can begin turning as soon as your box arrives because each tool comes with a very sharp, rotatable carbide cutter. Just rotate the cutter head ¼ turn for a clean, sharp edge and you are back to turning wood. Square shaft tools are CNC machined from ½ square stainless steel, making them stronger, stiffer and less likely to roll than round shaft tools.
The 5/8 round Simple Shear Cutting Finisher is CNC machined from solid stainless steel. That allows it to be rotated about it's axis so the cutter can be presented to the work at an angle, giving you that shear cutting action. These full size tools feature an overall length of 12", with a handle tang of ½" diameter x 2½ length.
Is the simplest to use carbide tool on the market. You'll appreciate the simplicity with which your project can quickly be turned and hollowed to the desired shape using this tool. Simple Shear Cutting Finisher (5/8 Round Shaft). Is a finishing tool that leaves and excellent surface finish so sanding is reduced to a minimum. Requires a bit of practice to master, but is often the favorite tool of them all.
Carbide tool makes roughing much simpler & less physical as most of the shock created by interrupted cuts is absorbed in the tool rest instead of your hands & arms. Carbide tool that provides a much higher level of woodturning creativity. Is for detail work such as beads and cutting perfectly square inside corners.
Also a great tool for rapid material removal especially inside a bowl. Is specifically designed to reach areas inside hollow form vessels that are inaccessible using straight shaft tools.
Each square Simple Woodturning Tool® is engraved so you know exactly what tool you have. That makes finding replacement cutters very simple! Look for authentic Simple Woodturning Tool replacement cutters.
STH = Simple Turner and Hollower. SSNH = Simple Swan Neck Hollower. S90D = Simple 90° Detailer.
S55D = Simple 55° Detailer. 5/8 Round Shaft = Simple Shear Cutting Finisher (SSCF). Simple Woodturning Tools® are proudly made in America in Ramsey, Minnesota by Harrison Specialties. Harrison Specialties is a family-owned and operated machining and manufacturing company located in Ramsey Minnesota. Our American-made product lines include carbide tipped Simple Woodturning Tools and lawn stripers for commercial zero turn lawnmowers. Simple Woodturning Tools with carbide tips cutters are available in full size and mid size models. Many different cutter shapes are available on these tools.
They make it possible to turn virtually any project from a large-size bowl to finely detailed spindles to small custom pens. The Simple Hollowing System makes it very easy to hollow out any shape turning. Even a closed form vessel is possible with Simple Swan Neck Hollower tool.
Lawn stripers are steel rollers mounted at the rear of the mower deck on a zero turn commercial lawn mower. Professional lawnmowers use these striping kits to create decorative patterns while mowing lawns. Many times theyre referred to as ballpark stripes because they remind us of the stripes seen on professional baseball fields. Zero turn striping kits are made for many types of machines such as John Deere, eXmark, Toro, Hustler, Bad Boy and others. The item "Package of 6 Carbide Simple Woodturning Tools & Handle for Wood Turning Lathe" is in sale since Tuesday, June 28, 2016.
This item is in the category "Crafts\Home Arts & Crafts\Woodworking\Wood Turning Hand Tools". The seller is "kerrymark" and is located in Anoka, Minnesota.
This item can be shipped worldwide.
Model: Full Size Pkg 6 Handle
MPN: Full Size Pkg 6 Handle
Country/Region of Manufacture: United States
Brand: Simple Woodturning Tools
Country of Manufacture: United States