Pro Grind Sharpening System For Lathe Turning Tools, Chisels, Skews, Gouges, NEW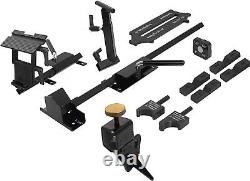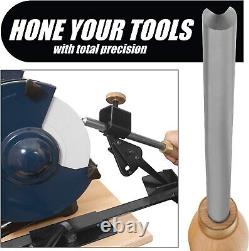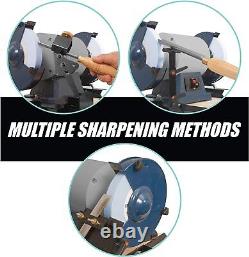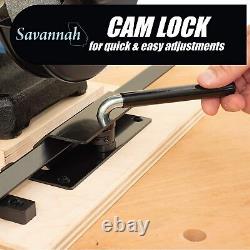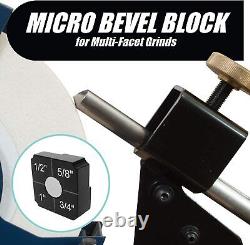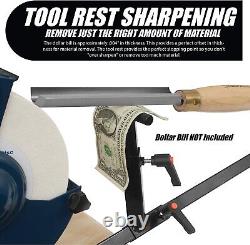 Finally a sharpening system with all the angle setup jigs and fixtures you need! All without breaking the bank! Sharpen chisels, gouges, bowl gouges, spindle gouges, carving tools, wood turning scrapers, parting tools, block plane irons and more with the PRO GRIND Sharpening System! With 3 primary methods of sharpening, you? Ll be able to precisely hone each tool to your exacting specifications regardless of the tool you are sharpening.
The included and versatile Multi-Grind Jig will correctly shape the edge on bowl gouges, side grinds aka Ellsworth grind, Liam O? Neil grind/Irish grind or fingernail grinds for spindle work and detailing. Not only will it correctly shape your tools, you will also be able to repeat the process to produce consistent results every time.
The Multi-Grind Jig is designed to be used with the included Multi-Grind arm on the PRO GRIND Sharpening System and will accept tools up to 1.125? The PRO GRIND Tool Rest Bar attachment offers you the best possible way to achieve a precise edge to your bevels without taking of too much material off of your tool. After all, we need our tools to last a long time, so why would you want to take off to much at a time?
The Tool Rest Bar is ideal for sharpening curved, even bevel edges that are typically used on spindle and roughing gouges. Slotted platform is the ideal way to sharpen flat edged tools like wood turning skews, chisels and hand plane irons.
The platform has a slot milled horizontally through it so it can accept the included tool holder. The tool holder is designed to keep your tools at the correct angle while being able to slide side to side during the sharpening process. The PRO GRIND Sharpening System also comes with a number of setup jigs and accessories to help in the setup process to sharpen your tools to the proper and repeatable angles. From the built-in projection gauge on the Multi-Grind arm to the Magnetic Micro Bevel setup block you? Ll be able to achieve consistent repeatable angles and produce excellent results each and every time you use the PRO GRIND Sharpening Jig system.