Simple Woodturning Tools 3 Carbide Wood Turning Tools with Rougher, Finisher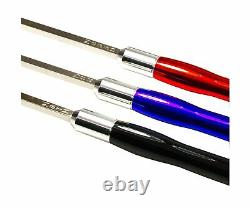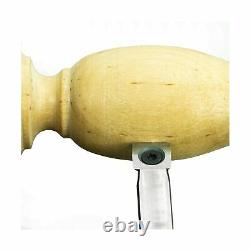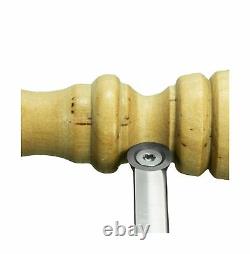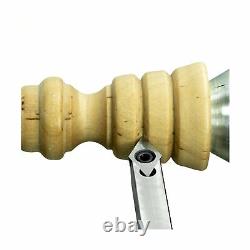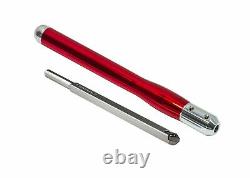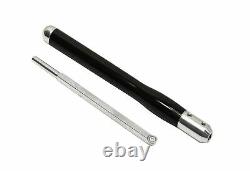 Simple Woodturning Tools 3 Carbide Wood Turning Tools with Rougher, Finisher, Detailer & 12 Color Coded Solid Aluminum Lathe Tool Handles, USA Made. Part Number: MSP3 MSR2R Handle 85R, 85BLK, 85SAP. Item Weight: 5.14 pounds. Package Dimensions: 20.5 x 12.5 x 2.5 inches. Date First Available: July 17, 2018.
These high quality carbide turning tools are American made by Harrison Specialties in Ramsey, Minnesota, a family owned CNC machining and manufacturing company. Easy tool selection with color coded solid aluminum handles. Each CNC machined powdercoated turning tool handle is 1-1/8" outside diameter by 12" overall length. Carbide turning tools feature ultra-sharp replaceable tips, which have multiple sides that can be rotated. Replacing or turning the cutters is easy with the included Torx wrench.
Designed with a 3/8 square shaft making it easy to keep tools flat on the tool rest. Overall turning tool length is 9. Greatly simplifies woodturning with no need for any sharpening equipment. The introduction of carbide lathe tools has greatly simplified wood turning!
With Simple Woodturning Tools it's all turning and no sharpening so you can start turning as soon as your box arrives. Gone forever is the long learning curve where precise angles and special tool presentation techniques must be mastered. Also gone is the need to master many sharpening techniques before you can even begin to turn, not to mention the expense of all that sharpening equipment.
This set contains: Mid Size Simple Rougher (MSR) - Typically the first tool used to quickly rough a block to a cylinder and shape the profile. Mid Size Simple Turner & Hollower (MSTH) - A great all around carbide wood turning tool that's the simplest turning & hollowing tool to master on the market today. Carbide cutter is 1/2 round with a flat top.
Mid Size Simple 55° Detailer (MS55D) - For fine detail work such as beads and coves in spindles. Perfect for cutting the dovetail tenon needed for holding a block in a 4 jaw chuck.
T15 & T20 Torx star tip wrenches are included to rotate cutters. Tool details: Material: CNC machined 3/8" solid stainless steelOverall tool length: 9"Handle tang: 2" x 3/8" diameterEach tool is designed with a square shaft making it easy to keep tools flat on the tool rest. Mid size tools are recommended for turnings under 6 in diameter. Handle Details: CNC machined from solid aircraft aluminum for durability and balanceBeautifully powder coated for a brilliant finish to last for yearsOverall length: 12", Outside diameter: 1 1/8", Opening for tool: 3/8" diameterTools can be easily changed by loosening the two stainless steel set screws with an 1/8" Allen key (not included)100% USA made by American craftsmanMost beautiful lathe tool handles on the market Benefits of Carbide Simple Woodturning Tools Simple to use for all skill levelsWoodturning is fast and more enjoyableYou can focus on your project and not on techniques or sharpeningNo long learning curveNo expensive sharpening equipmentBegin turning as soon as your box arrives!
Read more The Mid Size Simple Turner and Hollower - Simple & Effective Ideally suited for small and mid size projects where the full size tools as just to clumsy. Some examples include pens, Christmas ornaments, bottle stoppers, handles and bowls, just to name a few.
To use the Mid Size Simple Turner & Hollower just follow these 3 simple steps. Position the tool rest as close to the work as possible so the carbide cutter is at the lathe center line. Place the tool on the tool rest with the tool shaft parallel with the floor. While securely holding the tool slowly move the carbide cutter into the work.
Because of the small tool shaft the tool should not extend past the tool rest more than 3 inches. Read more The Mid Size Simple Rougher - Simplify Roughing When roughing with the mid size Simple Rougher you'll notice right away most of the shock created by interrupted cuts during roughing is absorbed in the tool rest instead of your hands and arms.
As you begin to move the tool across the turning block you'll see how fast these carbide tools cut and how much simpler roughing is. It won't be long until your block is a cylinder and you'll get your first look at what your turning will become.
In addition to roughing you'll notice the mid size Simple Rougher is a great tool for shaping the outside radius of a bowl and for turning beads on spindle turnings. Straight line turning is also simplified and it's also a great tool for hollowing out the inside of a bowl. If you're making a box or other vessel that requires square inside corners and a flat bottom this is the tool of choice for that as well. Read more The Mid Size Simple 55° Detailer - Intricate Detail Work The design of the mid size Simple 55° Detailer lends itself perfectly to small intricate detail work such as turning beads, cover finials, boxes and other final details on spindle and bowl turnings.
The special shape of the diamond cutter allows access to tight places where the cutter on other tools simply can't be used. Also it is also very useful for making outside chuck tenons and reverse angle inside cuts so bowls can be chucked with dovetail jaws. If you use a 4 jaw chuck to hold your turnings this tool is a must and will be used on every turning. As you use this tool you will soon see the wonderful small details that can added to your turnings. It will quickly become one of your favorite tools and used regularly.
Read more Tool Engraving Helps Identify Cutter Selection Each Simple Woodturning Tool is engraved so you know exactly what tool you have. That makes finding replacement cutters very simple! Here's how you would find them: Authentic Simple Woodturning Tools - replacement cutter for Mid Size Simple Rougher (fits tools engraved with MSR)Authentic Simple Woodturning Tools - replacement cutter for Mid Size Simple Turner & Hollower (fits tools engraved with MSTH)Authentic Simple Woodturning Tools - replacement cutter fits Mid Size Simple 55° Detailer (tool engraved with MS55D)These tools will also accept negative rake replacement cutters for turning resin, acrylic or soft woods, if desired. Note: These are MID SIZE tools.
Full size tools do not have the letter M preceding (for example STH) and those cutters will not fit these mid size tools. We stand behind our products. Your receive the wrong item. This item is in the category "Home & Garden\Tools & Workshop Equipment\Power Tools\Lathes".
The seller is "everydayideas" and is located in this country: US. This item can be shipped to United States.
MPN: MSP3 MSR2R Handle 85R, 85BLK, 85SAP
Brand: Simple Woodturning Tools
UPC: 035292665545
EAN: 0035292665545