Simple Woodurning Tools 5 Tool Set Mid Size Carbide Wood Lathe Turning USA Made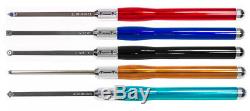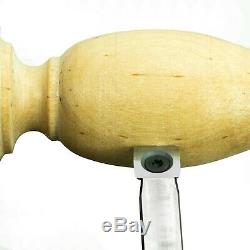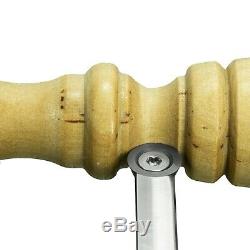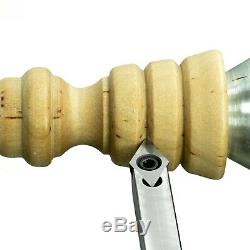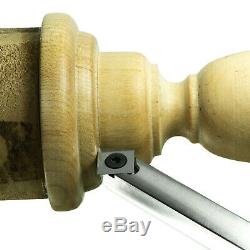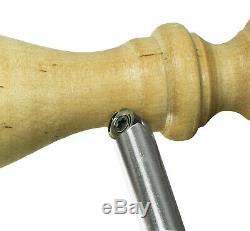 Simple Woodurning Tools 5 Tool Set Mid Size Carbide Wood Lathe Turning USA Made. Simple Woodturning Tools® 5 Tool Set of mid size carbide wood lathe tools with color coded handles for easy tool selection. These high quality carbide turning tools are American made by Harrison Specialties in Ramsey, Minnesota, a family owned CNC machining and manufacturing company.
Easy tool selection with color coded solid aluminum handles. Each CNC machined powdercoated turning tool handle is 1-1/8" outside diameter by 12" overall length. Carbide turning tools feature ultra-sharp replaceable tips, which have multiple sides that can be rotated.
Replacing or turning the cutters is easy with the included Torx wrench. Designed with a 3/8 square shaft making it easy to keep tools flat on the tool rest.
Overall turning tool length is 9. Greatly simplifies woodturning with no need for any sharpening equipment. All tools in this set feature a square shaft that is designed to be kept flat on the tool rest and level with the floor. The tools for woodturning included in this package. Mid Simple Turner & Hollower (MSTH) - Ideal for turning small bowls, handles, bottle stoppers, pens etc from even super hard wood such as maple. Mid Simple 55° Detailer (MS55D) - Perfect for cutting small details like those shown on the pictured bird house ornament. Also ideal for cutting a dovetail tenon for mounting turnings in a 4-jaw chuck. Can be used as a parting tool. Mid Simple Rougher (MSR) - square cutter with 2 radius.
This tool is suited for small and mid size projects such as pens, Christmas ornaments, cheese slicer handles, etc. Mid Simple Shear Cutting Finisher® (MSSCF) - this 3/8 round shaft tool will give you the very best surface finish of any carbide tool because of it's shearing action. Mid Simple 90° Detailer (MS90D) - For detail work and cutting perfectly square inside corners.
Tools are made from 3/8 solid stainless steel. Overall tool length is 9. Handle tang is 3/8" diameter x 2" length.
These beautiful solid aluminum handles are CNC machined here in Ramsey Minnesota. Each tool handle is powder coated giving it an easy grip & very durable finish.
Tools are easily changed by loosening the two stainless Allen set screws. The trademarks Simple Woodturning Tools® and Simple Shear Cutting Finisher® are owned by Harrison Specialties LLC and cannot be used without written permission. Simple Woodturning Tools® are made in America in Ramsey, Minnesota by Harrison Specialties. Harrison Specialties is a family-owned and operated machining and manufacturing company located in Ramsey Minnesota. Our American-made product lines include carbide tipped Simple Woodturning Tools and lawn stripers for commercial zero turn lawnmowers. Simple Woodturning Tools with carbide tips cutters are available in full size and mid size models.
Many different cutter shapes are available on these tools. They make it possible to turn virtually any project from a large-size bowl to finely detailed spindles to small custom pens. The Simple Hollowing System makes it very easy to hollow out any shape turning. Even a closed form vessel is possible with Simple Swan Neck Hollower tool. Lawn stripers are steel rollers mounted at the rear of the mower deck on a zero turn commercial lawn mower.
Professional lawnmowers use these striping kits to create decorative patterns while mowing lawns. Many times theyre referred to as ballpark stripes because they remind us of the stripes seen on professional baseball fields.
Zero turn striping kits are made for many types of machines such as John Deere, eXmark, Toro, Hustler, Bad Boy and others. The item "Simple Woodurning Tools 5 Tool Set Mid Size Carbide Wood Lathe Turning USA Made" is in sale since Monday, July 23, 2018. This item is in the category "Crafts\Home Arts & Crafts\Woodworking\Wood Turning Hand Tools". The seller is "kerrymark" and is located in Anoka, Minnesota. This item can be shipped worldwide.
MPN: MSP5 MSR2R Handle 85R BLK SAP COP TEAL
Country/Region of Manufacture: United States
Brand: Simple Woodturning Tools
UPC: 35292665569